High School Writers Conference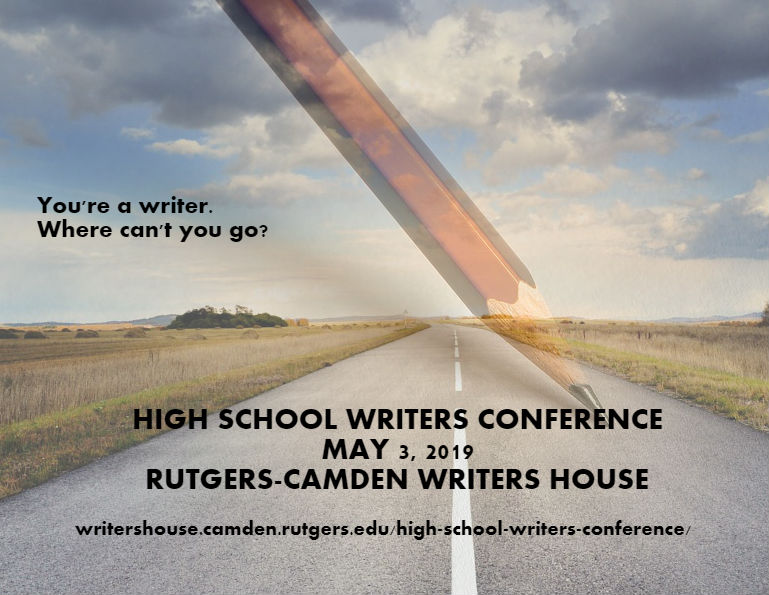 This conference is for you. 
If you're a high school student who loves writing poetry, arguing politics, or composing epic threads on Twitter, this annual conference is for you. If you've dreamed about journalism, law, nursing, or working for your city, and want to know how people in those professions use writing every day, this conference is also for you. 
In the morning, choose from sessions on poetry and performance, legal argument, writing for the web, news reporting, and more, all in the historic Writers House on the Rutgers-Camden campus. Take a break for lunch, then show us your chops: by yourself or with a friend, present a poem, story, rap, essay, or other piece of writing at our afternoon slam. 
The first Rutgers-Camden High School Writers Conference was held April 13, 2018. Presented by the Writers House and the Office of Civic Engagement, Rutgers University-Camden. 
---
SAMPLE SCHEDULE: 
8:40 am – Arrival and Check-in
9:00 am – Poetry and Performance 
10:00 am – Writing Legal Arguments
11:00 am – Graphic Narratives
12:30 – Lunch 
1:30 pm – Afternoon Slam 
3 pm – Buses home
---
2019 Sessions 
Telling Long True Stories
10 am
Writer Emma Eisenberg, author of the forthcoming The Third Rainbow Girl, will discuss the research and writing practices she uses for long-form journalism. Students will get the chance to explore: what's a story you've wanted to tell that seems like it has a lot of moving parts? How do you know what questions to ask and who to talk to in order to get the whole story? 
Emma Copley Eisenberg's fiction and nonfiction has appeared in McSweeney's, Granta, Tin House, VQR, American Short Fiction, the Los Angeles Review of Books, AGNI, and others. She lives in Philadelphia where she co-directs Blue Stoop, a hub for the literary arts. Her first book, The Third Rainbow Girl, will be published by Hachette Books in 2020.
Graphic Narrative Workshop
11 am 
Love comics? Join a professional cartoonist for a brief overview of graphic narrative techniques. We'll do a crash course on comic/zine making and visual storytelling. You'll end the session with your very own finished mini-comic and the knowledge to make more.
Priya Huq is a cartoonist and illustrator whose debut graphic novel comes out in 2020. She's had work in The Nib, Secret Loves of Geeks, and the Dirty Diamonds anthologies.
Playwriting Workshop: The Playwriting Decathlon! 
11 am 
Playwrights are story-tellers of the stage. Their words unfold out of the mouths of actors and in front of a live audience. In this workshop, you'll learn ten simple steps that will have you writing plays in no time! We'll work collectively and individually to create 1- to 2-page scenes. The session will end with a reading of some of these scenes and resources for you so you can keep evolving as a playwright! 
Jesse Bernstein 
is a Philadelphia-based playwright, director, actor, producer and educator. He is a teaching artist and the Resident Producer for 
Philadelphia Young Playwrights
,
and has worked with theatres around the country. In May, the musical for which he is writing the book, 
Something Like a War
, will be presented as a staged-reading by 11th Hour Theatre Company. 
Stories in Sound 
Ever heard a story on a podcast or on the radio that you couldn't turn off? Come learn the basics of how to structure a compelling, creative audio story. You'll learn the differences between three non-standard story structures, hear about to how to approach interviews for different kinds of stories, and dive into the basics of critiquing audio stories (we'll listen to clips from Radiotopia, NPR, and more). We will do our learning in pairs and in the large group. You will walk away knowing that you can choose a structure for your first "story in sound" that is both moving and coherent.  
Abby Holtzman
is the editor in chief of New Voices magazine, the Jewish and justice-focused magazine by and for college students, and the executive director of the Jewish Student Press Service (JSPS). Abby mentors young writers across the country on journalistic skills to help them document their own communities and hold accountable the institutions that raised them. Abby's radio reporting has aired on Interfaith Voices, WHYY's The Pulse, WAMU's All Things Considered, Tablet's Unorthodox podcast, and WNYC's Nancy podcast. They are a graduate of Swarthmore College and the Salt Institute for Documentary Studies.
Poetry of Protest
Poet and activist Audre Lorde writes, "Poetry is not a luxury. It is a vital necessity for our existence. It forms the quality of light from which we predicate our hopes and dreams toward survival and change, first into language, then into idea, then into more tangible action." In this workshop, we will explore the relationship between the language of poetry and the language of politics. We will get inspired by poetry that speaks up, talks back, and breaks the rules. Then, students will begin writing their own poems that dream towards change. 
Stephanie Cawley is a poet from southern New Jersey. She is the author of the chapbook A Wilderness (Gazing Grain Press, 2019) and her poems and essays have been published in The Fanzine, The Boston Review, the PEN Poetry Series, and Best New Poets, among other places. She teaches writing at Stockton University and is the Program Director of the Nick Virgilio Writers House in Camden. 
---
Sample Sessions (2018)
Writing for the Web: Make It Snappy
9 am 
Tamar Fox, Web Content Writer, City of PHiladelphia
How do you take important and sometimes complicated information that people need to know, and make it into clear and easy-to-read? That's the challenge of writing for a government website, and that's what we'll practice in this session. Can you make a page of dense, complex text into something that's easy to scan? 
Tamar Fox is a writer and editor for the City of Philadelphia. She has also published a children's book, and articles in the Washington Post, the Jerusalem Post, and Lilith Magazine, among others. 
Poetry Machines 
9 am 
Jim Brown, Professor of English and Digital Studies, Rutgers University-Camden 
While humans can write poetry, it might surprise you to find out the machines can write poems as well. During this session, we'll develop software that generates poems. No computer programming expertise is required.
Jim Brown is Associate Professor of English and Director of the Digital Studies Center at Rutgers-Camden. His teaching and research focus on digital rhetoric and electronic literature.
Writing in 4D: The Art of Playwriting
10 am
Jesse Bernstein, Resident Producer, Philadelphia Young Playwrights 
The play's the thing in this class, where we'll write scripts actors will be excited to perform. We'll learn what makes writing for the theatre fun and unique while using prompts to craft our own short plays. Whether you've seen or worked on a dozen shows or none, after this workshop you'll have the basic skills and confidence to create a dramatic scene that will leap from the page to the stage.
Jesse Bernstein is a Philadelphia-based theatre artist and educator. He teaches for Philadelphia Young Playwrights, where he is also Resident Producer. He has written several outreach plays and short filmsand is currently writing the book for a new musical commissioned by 11th Hour Theatre Company. He has performed and directed at theatres all around the Philadelphia area, including at the Walnut Street Theatre, Arden Theatre Company and Rutgers-Camden. 
Legal Argument 
11 am 
Krysten Connon, attorney and author
In this session, we'll introduce the idea of writing a persuasive opening argument. Then, you'll learn about legal problems relevant to your lives (for example, free speech in school). You'll then get to develop arguments supporting both sides of the issue. 
Krysten Connon is an attorney in Philadelphia.  Following law school, Krysten worked as a federal judicial law clerk.  Krysten co-authored the 2015 Oxford University Press book Living in the Crosshairs:  The Untold Stories of Anti-Abortion Terrorism, as well as several articles that have appeared in publications such as Slate and Rolling Stone.  Krysten is a graduate of the University of Maryland and Drexel Law School. 
Writing for Worship 
11 am 
Rev. Ashley DeTar Birt
When we think about writing and faith, what comes to mind? Working on sermons? Writing prayers? Speaking your heart? In this workshop, we will explore what goes into various forms of religious writing and work on crafting prayers and statements that ring true to us.  
Rev. Ashley DeTar Birt is the Pastoral Fellow for Youth and Families at Rutgers Presbyterian Church in New York City. She holds degrees in Creative Writing, Theatre Arts, and Divinity, and has over a decade of experience working with children and youth in a church setting. She has also written for the Progressive Youth Ministry blog and Believe Out Loud.
Inspired by Real Life
10 am and 11 am 
Diana Rodriguez Wallach, YA author 
Learn to how to pull inspiration from your life to craft a young adult short story. In this workshop, we'll learn how to outline a plot in a contemporary teen setting. Using all five senses we'll create a vivid scene, then imagine that world through the eyes of our character by learning how to craft internal monologue. Workshops end with each of us writing the first and last sentence of our unique short story. You'll be amazed at how you can turn an everyday moment into a engaging short story by focusing on the right details! Event includes a Q&A with the author.
Diana Rodriguez Wallach is the author of the Anastasia Phoenix Series, young adult spy thrillers that include Proof of Lies, Lies that Bind, and End of the Lie (Entangled Publishing, 2017, '18, '19). The first book in the trilogy, Proof of Lies, was named by Paste Magazine as one of the "Top 10 Best Young Adult Books for March 2017." Bustle also listed her as one of the "Top Nine Latinx Authors to Read for Women's History Month 2017." Additionally, she is the author of three award-winning young adult novels: Amor and Summer Secrets, Amigas and School Scandals, and Adios to All The Drama (Kensington Books); as well as a YA short-story collection entitled Mirror, Mirror (Buzz Books, 2013).
---
How to participate
Students should have a parent or guardian sign the permission slip below and return it to Ms. Ally Barajas by April 19, 2019.
Writers Conference Permission Slip
For teachers 
Want to bring an entire class? Want more information about this year's program? Contact us at 856-668-4980 or leah.falk@camden.rutgers.edu. 
Admission Information
Free
Contact
Leah Falk 
856-668-4980
leah.falk@camden.rutgers.edu