High School Writers Conference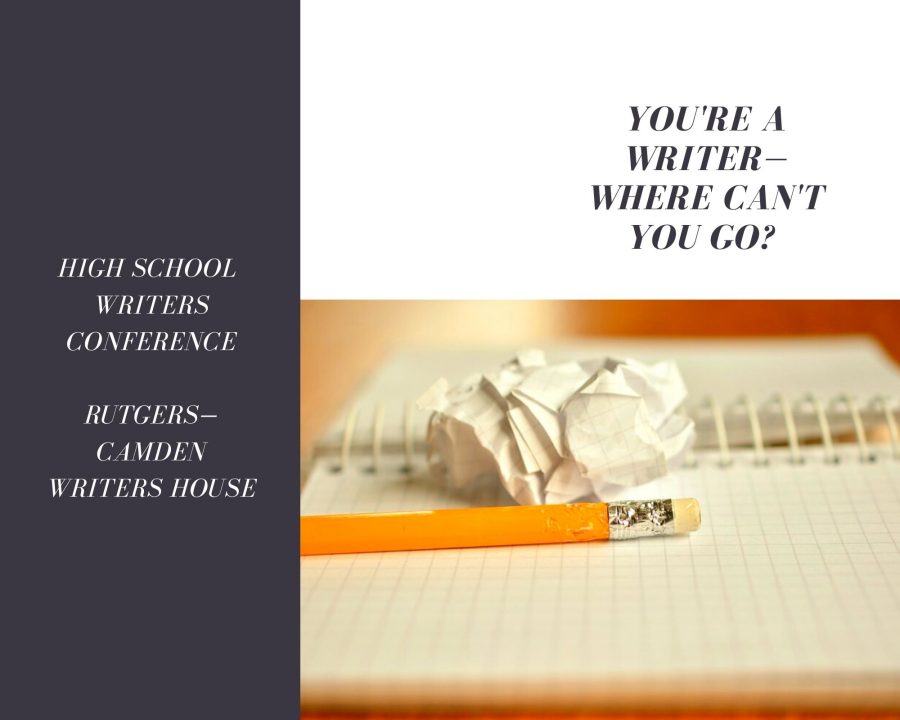 The High School Writers Conference is back — virtually! Join us April 16 for a modified, online version of the conference. 
This conference is for you. 
If you're a high school student who loves writing poetry, arguing politics, or composing epic threads on Twitter, this annual conference is for you. If you've dreamed about journalism, law, nursing, or working for your city, and want to know how people in those professions use writing every day, this conference is also for you. 
Our keynote speaker, Lorene Cary, presents an opening talk that will inspire you in your writing. Then choose from sessions on poetry and performance, legal storytelling, science communication, news reporting, and more. 
The first Rutgers-Camden High School Writers Conference was held April 13, 2018. This program is presented by the Writers House and the Office of Civic Engagement, Rutgers University-Camden. 
---
2021 Speakers and Facilitators 
Keynote Speaker: Lorene Cary 
Lorene Cary's new play, My General Tubman, imagines the iconic freedom fighter showing up in a contemporary Philadelphia prison, looking for men to fight with her—and finding one who wants more. Her recent memoir, Ladysitting: My Year with Nana at the End of Her Century, published by W.W. Norton Books, published to stunning reviews is also available as an audiobook recording, and comes out in paperback in June 2020. As a resident in American Lyric Theater's Composer & Librettist Development Program, Cary wrote a libretto that takes off from Ladysitting. Composer Liliya Ugay set a lyrical score and produced her own recording. The one-act opera is titled The Gospel According to Nana. Cary and Ugay have begun work on an opera called Robeson in Concert. Cary's non-fiction includes her best-selling memoir Black Ice and a collection of stories for young readers titled Free! Great Escapes from Slavery on the Underground Railroad. Novels include The Price of a Child, chosen as the first One Book One Philadelphia offering; Pride; and If Sons, Then Heirs. Cary has written scripts for videos at The President's House exhibit on Independence Mall in Philadelphia, which tells the stories of nine enslaved Africans in the household of President Washington. For 20 years Cary has taught fiction and non-fiction at the University of Pennsylvania, in the Departments of English and Africana Studies; she's twice received the Provost's Award for Distinguished Teaching, most recently in 2017. She invites her students to publish on SafeKidsStories.com, which she created to focus on children's safety and wholeness. That project spawned #VotethatJawn, a project that worked with passionate youth and educators to help double youth registration in Philadelphia in 2018. In 1998 Cary founded Art Sanctuary to enrich urban Philadelphia with the excellence of black arts. To create an intentional transition, she stepped down as director in 2012. She served as president of the Union Benevolent Association; and, from 2011-2013, and as a member of Philadelphia's School Reform Commission, where, as chair of the Safety Committee, she worked to eliminate zero-tolerance punishments for children. Other honors include: The Philadelphia Award, and honorary doctorates from Swarthmore, Muhlenberg, Colby, and Keene State Colleges, and Arcadia and Gwynedd Mercy Universities. 
---
Workshops
Upon registering, student participants will receive login information for all workshops. Students may choose which workshops they'd like to attend at any time. 
Legal Storytelling
What do lawyers need to know about storytelling? Quite a lot! A legal situation is a story because it involves characters, a conflict, and the hope for a resolution—exactly the building blocks of a story. To represent their clients, lawyers communicate to others about the clients' legal situations. Most of that communication happens in writing (even when a case goes to trial there's still a lot of writing before that point). So, lawyers need to know how to write in a narrative way.
In this workshop, students will learn a few of the legal reasoning fundamentals that lawyers use to advocate on behalf of clients. In addition to reviewing the basic elements of storytelling, some of the key phrases we will use are ethos, logos, pathos, "bottom line up front," "cognitive priming," "rules of law, illustrations of law, and application of law."
About the facilitator: Ruth Anne Robbins is a Distinguished Clinical Professor of Law at Rutgers Law School. She has taught legal writing courses for two decades, and her scholarship is widely recognized in the field. She is the co-author of a textbook, Your Client's Story: Persuasive Legal Writing (now in its second edition), the co-editor in chief of a peer-reviewed academic journal, a founder of the Applied Legal Storytelling international conference series, and a past president of the Legal Writing Institute. She has received campus and area awards for her teaching, including the Lindback Distinguished Teaching Award (2018).
---
Get the Story: Reporting and Writing Feature Stories
Sam Starnes, editor of Rutgers–Camden Magazine, will lead this session on reporting and writing nonfiction feature articles for magazines, newspapers, and online—specifically focusing on using scenes to make stories come alive.

About the facilitator: Sam Starnes is the editor of Rutgers–Camden Magazine. He has many years of experience as a journalist, novelist, and teacher and has had journalism appear in The New York Times, The Washington Post, The Philadelphia Inquirer, and various other newspapers and magazines. He holds a bachelor's degree in journalism from the University of Georgia, an M.A. in English from Rutgers University–Newark, and an M.F.A. in creative nonfiction from Goucher College.
---
Speechwriting for Social Change
Being able to craft a message as a tool for social change is both an art and a science. In this workshop, participants will learn how they can address issues important to them using the power of storytelling and honing the craft of persuasive writing as a vehicle for challenging power structures. Participants will learn how to think about the strategic value of speeches in an advocacy context and get concrete tips and strategies for movement speechwriting.
About the facilitator: Nick has been the City Wide Chapter Organizer at Youth United for Change in Philadelphia since 2016. Nick has been involved in social justice education programming for his whole professional career. Nick's undergraduate degree in Latin American Studies politicized his worldview through studying the impacts of imperialism and colonialism. Before joining the organizing staff of YUC, Nick was involved in a number of different social movement organizations across a variety of issues. Nick and his colleagues documented their lessons on organizational development and youth organizing in a self-published book entitled "Y'all Tryna Win or Nah?!" which can be downloaded for free at youthunitedforchange.org.
---
Science Communication
Are you interested in both science AND journalism? When scientists make discoveries, we need journalists who understand the complex science so that the world can understand it! Come out and learn a little about the field of science journalism!
About the facilitator: Dr. Nathan Fried is a neuroscientist and Assistant Professor in the Department of Biology at Rutgers University Camden studying chronic pain, sleep, and the opioid epidemic. Dr. Fried is also an avid science communicator who writes stories about recent scientific breakthroughs and presents talks about the brain across the Philadelphia area. Learn more about his work at www.NeuroFriedLab.com. 
---
Don't Just Feel the Vibe, Create It
One of the most empowering actions you can take in your life is to understand and tell your story. Often times, if you're really passionate about it, this can lead to you empowering others to do the same. In this session, Sincerely Syreeta, a radio personality and award-winning journalist, examines how the decision to tell her story of being a teen parent growing up in a single parent home led to entrepreneurship, hosting her own radio show, and empowering her community. You'll learn how to identify and tell your story, connect it to a larger conversation, and create the framework for a broadcast series/show or blog. 
About the facilitator: Dubbed  "the Oprah of Philly" by Philadelphia City Council, Syreeta Martin is an award-winning journalist and CEO of Sincerely Syreeta & Co. LLC. For over 20 years, Syreeta has motivated audiences in-person, on-air, and online to Empathize, Empower, and Evolve. She currently serves as a radio personality on WURD Radio (96.1 FM/900 AM) where she uses her in-depth interviewing and strategic planning expertise to drive the station's mission of engaging millennial listeners via content and events that are entertaining, informative, and inspiring. Syreeta has been recognized by the prestigious Pen & Pencil Club as Freelance Journalist of the Year; Femme & Fortune Magazine as 1 of 30 women under 30 who are among Philadelphia's most inspiring women; as 1 of 54 "Connectors and Keepers" by LEADERSHIP Philadelphia; and honored by non-profit organizations for her community engagement. Syreeta received her B.A. in Journalism from Temple University and holds a certification in Life Coaching, which she uses to facilitate life skills curriculum at high schools and vocational programs in Philadelphia. Above all else, the mother of two values family, faith, and a life lived with purpose. Connect with her on Twitter (@SincerelyReeta), as well as Facebook and Instagram (Sincerely Syreeta)..
---
Writing for Public History 
What can our belongings reveal about us? How do historians use things like shoes to tell stories about everyday people like you? In this workshop, we'll learn about when historians use objects (such as in museums) to write history and why objects are often at the center of public debates about historical topics. You'll also get a chance to write your own history of yourself using your shoes or another piece of clothing you have with you.
About the facilitator: Nicole Belolan is the Public Historian in at Residence at the Mid-Atlantic Regional Center for the Humanities (MARCH) at Rutgers-University Camden. There, she directs a continuing education program in historic preservation. As part of her duties, she also serves as the Co-Editor of The Public Historian and the Digital Media Editor, both for the National Council on Public History. She is a historian of disability in early America.
---
Making Text Games with Twine
Twine is a free tool for making text-based games that run in a web browser. In this interactive session, we'll get started with Twine, learn its basics and then make a short game that can be played by anyone on any device.
About the facilitator: Travis DuBose is director of the Writing and Design Lab at Rutgers—Camden, where he also teaches courses in writing and creative coding.
---
Poetry 
Why do we write poetry? How do we write poetry? In this workshop, we'll study examples of published poetry to see what we can learn about the way they're written and what they accomplish. Most importantly, we'll read poems to talk about the way they make us feel and think about the world around us and ourselves. Then, we'll write and workshop our own poetry in conversation with these works! Come as you are and let's write together.
About the facilitators: 
Taylor Lewis is an Atlanta native and a poet currently living in Philadelphia. She graduated with a Bachelor's in English from Spelman College in 2018, where she studied creative writing. She serves as poetry editor at Auburn Avenue Magazine, which focuses on the works and lives of Black artists in the United States. Her poetry can be found on Voicemail Poems, Spelman College's Aunt Chloe, and the Tenderness Project. Her favorite poet is Stevie Wonder.
Mary Sico was born and raised in western Pennsylvania. She studied English writing at the University of Pittsburgh, where she was awarded the Monty Culver Prize for Undergraduate Fiction and had her writing featured on WESA's Prosody: Pittsburgh Radio for Contemporary Literature and in The Fourth River. After graduation, she spent four years living, teaching, and writing in Colombia. Since fall of 2019, she has been pursuing an MFA in creative writing at Rutgers-Camden.
---
How to participate
Students should have a parent or guardian sign the permission slip below and return it to Ms. Ally Barajas (alejandra.barajas@camden.rutgers.edu) by April 3, 2020. 
Writers-Conference-Permission-Slip-2020
For teachers 
Want to bring an entire class? Want more information about this year's program? Contact us at 856-668-4980 or leah.falk@camden.rutgers.edu. 
Admission Information
Free
Contact
Leah Falk 
856-668-4980
leah.falk@camden.rutgers.edu