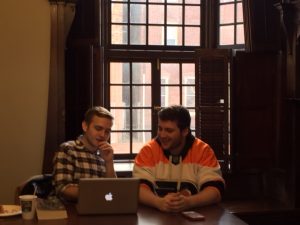 Room for all writers. 
Cooper Street is for everyone, whether you're just beginning to explore a genre or have been writing for years. Our workshops are taught by published and award-winning authors, seasoned teachers, and professional editors. Our instructors strive to create a comfortable, encouraging, and supportive classroom environment where writers of all backgrounds and skill-levels can improve their craft and share their work with others.
Making even more room.
The Writers House is pleased to announce that beginning Spring 2017, all Cooper Street workshops will offer scholarships to participants residing in the city of Camden. Please contact Leah Falk for more information. 
---
Fall 2017 Workshops 
---
Writing New Jersey 
Instructor: Shelby Vittek
September 16, 23, and 30, 2017
THIS WORKSHOP HAS BEEN CANCELLED DUE TO LOW ENROLLMENT. 
1-4 pm 
$200 
Register now
New Jersey is more than just a pass-through state. In this nonfiction workshop, we will read and write about, in, and through New Jersey. Over the course of three Saturdays, we will explore how to write about the Garden State's rich history and traditions, as well as current issues affecting the state. We'll discuss New Jersey as a destination, practice immersion journalism, and look at whether certain stories are better suited for a local or national audience. We'll read essays, articles, and book excerpts covering everything from the history of New Jersey's diners and the pork roll vs. Taylor Ham debate, the wilderness of the Pine Barrens and the state's hiking and biking trails, the Jersey Shore (both the destination and the television show),  Atlantic City's troubles and Jersey City's boom, NJ's ethnic and religious diversity, its endangered and threatened wildlife, its farms and farmers, and more. Participants will be given writing prompts as well as be encouraged to generate their own story ideas. Take-home writing assignments will be given and we will read each other's work and offer feedback. Time permitting, we will also discuss markets for publishing work. 
Shelby Vittek is an award-winning food, wine, and travel writer. Her food writing has won several awards from the Association of Food Journalists, and her work has appeared in the Washington Post, New Jersey Monthly, The Record, The Kitchn, Table Matters, The Smart Set and the Philadelphia Daily News, among others. She is currently an Associate Editor for New Jersey Monthly, and an alumna of Rutgers-Camden's MFA program.
---
Youth Workshop – The Hero's Journey 
Instructors: Lauren Holguin and Ken O'Kane 
September 16, 23, 30 and October 7, 14, and 28
10 am – 11:30 am
For participants in grades 6-12
$250; city of Camden residents free.
This workshop will develop an understanding of the value and power of storytelling in our community. The final product will result in short stories, written by Camden students, with the opportunity to appear in a local literary magazine. Each student will also walk away with a printed copy of their final work.
People have always been fascinated by heroes. From characters as old as Hercules to as new as Katniss Everdeen, the story of the hero is always a compelling one. The best heroes have humble beginnings, and rise to greatness after overcoming great challenges. Their stories are inspiring, and always deliver a strong message about perseverance and morality. Many of today's most popular novels and films develop their stories in what Joseph Campbell calls the Hero's Journey.
We will be examining stories developed in this way closely, with non-traditional heroes. Using what they've learned about the Hero's Journey structure, our students will be creating their own compelling characters and writing stories about their adventures and personal rise to greatness.
Lauren Holguin is currently a 4th Grade ELA teacher at KCNA (KIPP Cooper Norcross Academy). She is a fiction writer from Los Angeles, California with experience after graduating from Temple University teaching creative writing workshops to the bilingual community of South Philadelphia at Mighty Writers El Futuro. She participates in an adult writing workshop at The Head and The Hand Press in Philadelphia and has had work featured recently at Kelly Writers House at UPENN. She is currently earning her M.A.T through Relay Graduate School of Education. When she is not teaching she can be found coaching basketball and Camden Girls Running Club.
Ken O'Kane has been working with youth in Camden for over five years. While a student at Rutgers, majoring in English and minoring in Urban Studies, he got involved with running writing workshops after taking a Teaching Creative Writing in Public Schools course. Since then, he has volunteered and worked for both EducationWorks in East Camden and Ignite, run by Rutgers, in North Camden. At Ignite, Ken designed a Filmmaking Club and served as club facilitator at multiple schools in North Camden. Currently, he is pursuing his M.A.T. at the Relay Graduate School of Education and teaching at Camden Prep Middle School.
---
Apply to lead a Cooper Street workshop!