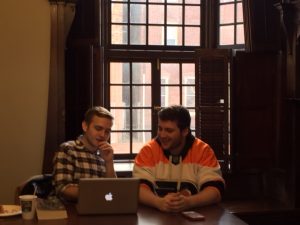 Room for all writers. 
Cooper Street is for everyone, whether you're just beginning to explore a genre or have been writing for years. Our workshops are taught by published and award-winning authors, seasoned teachers, and professional editors. Our instructors strive to create a comfortable, encouraging, and supportive classroom environment where writers of all backgrounds and skill-levels can improve their craft and share their work with others.
---
Fall 2018 Workshops 
Multi-session workshops 
Write Like a Mother
Four Saturdays: October 27, November 3, 10, and 17 
10 am – noon 
$180 general/ $30 Camden residents 
Register
What's your motherhood story? In this workshop, you'll have time to write and share your own creative work, and to read essays and poems by writer-mamas. Our readings and prompts will engage both the joys and the challenges of motherhood, and we'll also work to develop strategies for establishing and maintaining a writing practice while immersed in the daily work of parenting. Central craft issues include developing compelling metaphors and concrete details and using your distinctive voice to share your story. No matter where you are in your writing life or your parenting journey, this workshop will offer prompts and inspiration, writing time, and supportive feedback.
About the Instructor: 
Nancy Reddy is the author of Double Jinx (Milkweed Editions, 2015), selected by Alex Lemon for the National Poetry Series, and the chapbook Acadiana(Black Lawrence Press, 2018). Her poems have appeared or are forthcoming in Blackbird, Pleiades, Tupelo Quarterly, 32 Poems, Smartish Pace, and elsewhere. She has been the recipient of a Walter E Dakin Fellowship to the Sewanee Writers' Conference and grants from the Sustainable Arts Foundation and the New Jersey Council on the Arts. She grew up in Pittsburgh, taught high school in New Orleans and Houston, and earned an MFA in poetry and a PhD in Composition and Rhetoric at the University of Wisconsin-Madison. She is Assistant Professor of Writing and First Year Studies at Stockton University in southern New Jersey, and she lives outside Philadelphia with her family.
---
From Video Games to Fiction 
Four Saturdays: October 27, November 3, 10, and 17 
10 am – 12 noon 
$180 general/$30 Camden residents
Register
In this workshop, we'll examine the ways in which video games tell stories, and how these methods might inform the practice of writing fiction. We'll look at games like Gone Home and Bioshock alongside fiction by Carmen Maria Machado, Karen Russell, and Charles Yu. We'll also try our hand at our own "playful" writing, with in-class writing experiments. So whether you like Nintendo or Nabokov, Playstation or ZZ Packer, think of this class as the tutorial level on good storytelling. (Note: this workshop will not require students to purchase game consoles or to be proficient in playing games. All gaming examples will be available to watch on YouTube so that every student can access the necessary materials.)
About the instructor: 
Grayson Morley is from Canandaigua, New York, and is a graduate of the Iowa Writers' Workshop and Bard College. A winner of the 2018 PEN/Dau Short Story Prize for Emerging Writers, his work has appeared or is forthcoming in the Brooklyn Review and the Iowa Review. He is at work on a collection of stories and an absurdist novel about deliverymen and GPS efficiency tracking software.
---
Grounding the Fantastic 
Six Mondays, October 1 – November 5
6-8 pm 
$250 general/$50 Camden residents 
Register
Stories of other worlds and realities can work both as ways to escape from our usual lives and ways to learn more about them. In this intermediate-level workshop, participants aged high school and up will examine how good science fiction and fantasy can reveal larger truths about our current world, imagining ways that reality can be different and the implications if it is. Over six weeks, participants will break open their works-in-progress and produce new elements with a craft focus on character, story arc, and setting. What do you most need to make the world you've built come alive, and what will it mean when it does?
Participants in all stages of a project are welcome, including those with the beginnings of an idea and those with many pages for revision.
About the instructor: 
Catherine Buck is a writer and educator from Burlington, New Jersey. She earned her MFA from Rutgers-Camden and BA from La Salle University. She has worked with youth in El Paso, Texas; León, Nicaragua; and Galway, Ireland, as well as throughout Philadelphia and South Jersey. She is at work on a novel about teens on the US-Mexico border and a speculative short story collection that re-imagines ideas of place and time.
---
One Session Workshops
Writing Dangerous Poems 
Saturday, October 20
10 am – 4 pm 
Register
Poets from all over the world, from all different backgrounds, have been writing against power for millennia. They've written against war, murder, the ideologies driving every violence, and themselves. In this workshop, we will ask questions such as: What are the truths that we keep hidden from ourselves? What are the realities that the systems of power in our lives don't want us to understand? How can we make ourselves dangerous to—and take power away from—fear and those who exploit it? We will create poems from our particular positions in the world, and study the writing of those who have done this before us (Jimmy Santiago Baca, Lynn Melnick, Philip Levine, and Audre Lorde, to name a few), with the goal of gaining a deeper understanding of our purposes and possibilities as writers.
About the instructor 
Tim Lynch has studied in the MFA program at Rutgers-Camden and conducts interviews for Tell Tell Poetry. He has taught writing in both after-school programs and university. His poems appear or are forthcoming in The Collagist, Puerto del Sol, Vinyl, Luna Luna and more. 
---
Environmental Writing 
Saturday, November 10
10 am – 4 pm 
$60 general/$10 Camden residents
Register
From a city street to a remote island affected by climate change, there is a bounty of places where the environmental writer can begin their exploration. In this workshop, we begin by asking what we consider to be our own personal environments and then move on to parse a part how our relationship to the spaces around us play into our writing practices. We will look at a brief history of what's historically been considered environmental writing and how the role of the environmental writer has shifted throughout time. By engaging in a series of prompts, we will consider together the role of the artist who's curious of how they may connect with the environment through their work, how we can consider place more broadly as writers, and even imagine the future of place together, including ones not yet known.
About the instructor: 
Juliana Roth is a writer and teacher currently living in Philadelphia. She has worked in programming and communications for the Ecology Center, Michigan Network for Children's Environmental Health, and the World Animal Awareness Society. A 2018 nominee for Sundress Publication's Best of the Net Anthology, Juliana's writing has appeared in Entropy, Irish Pages, VIDA Review, among other publications. 
Apply to lead a Cooper Street workshop! 
---