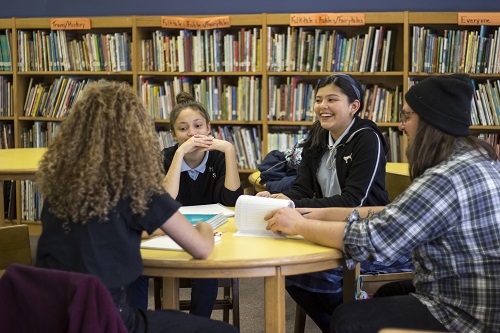 Growing Great Writers is an after-school partnership that leads creative writing clubs for students in grades 4 and up. At Growing Great Writers, we believe that teaching literacy without teaching literature and a love of language is like taking vitamin pills instead of eating delicious, healthy food. By literature, we don't just mean the classics you read in high school: we mean the read-aloud books of Mo Willems, Maurice Sendak, Virginia Hamilton, and Grace Lin; we mean the chapter book series elementary school kids sometimes gobble for breakfast; we mean comics and Harry Potter and The Hunger Games, and the work of living novelists, poets, and memoirists.
Our teaching artists use techniques that support English/Language Arts classroom skills while emphasizing that reading and writing can be joyful, meaningful activities that build confidence. Taught with love and attention, we believe great readers and writers become great citizens.
"Serving in GGW offers me the opportunity to use the arts I value and practice in a more informal, and arguably "realer" setting. Especially serving youth who've already spent all day in school, I've come to recognize that my role isn't as one sided as being a "writing teacher". When we teach creative writing, we are developing and encouraging our students in literacy. But perhaps more crucially, we are upholding the artistic and expressive capacity in youth." 
                                                                                  — Philip DiCicco, 2018-19, 19-20 Teaching Artist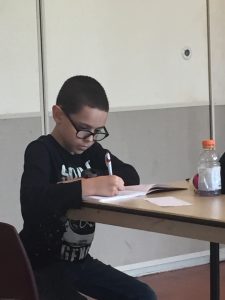 What We Do
We partner with Camden schools and community centers to deliver informal club sessions centered on writing expressively. Teaching artists introduce students to age-appropriate and culturally resonant material, invite students to complete writing prompts or play storytelling games, and help students build a body of work they're proud of over the course of a few months or a year. We want students to celebrate their voices and communities as important sources of language and story.
To date, we have partnered with Rutgers–Camden Ignite at Cooper's Poynt, Dudley Family School, the Salvation Army Kroc Center, and the SOAR program at St. Anthony of Padua. 
We're always interested in the possibility of new partnerships! Contact us if you are an out-of-school-time leader interested in working together. 
Who We Are
Teaching artist bios for 2019-20 coming soon.