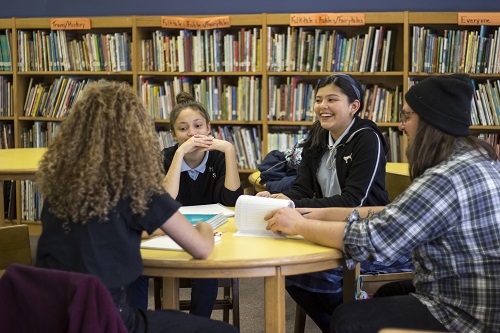 Growing Great Writers is an after-school partnership that leads creative writing clubs for students in grades 4 and up. At Growing Great Writers, we believe that teaching literacy without teaching literature and a love of language is like taking vitamin pills instead of eating delicious, healthy food. By literature, we don't just mean the classics you read in high school: we mean the read-aloud books of Mo Willems, Maurice Sendak, Virginia Hamilton, and Grace Lin; we mean the chapter book series elementary school kids sometimes gobble for breakfast; we mean comics and Harry Potter and The Hunger Games, and the work of living novelists, poets, and memoirists.
Our teaching artists use techniques that support English/Language Arts classroom skills while emphasizing that reading and writing can be joyful, meaningful activities that build confidence. Taught with love and attention, we believe great readers and writers become great citizens.
What We Do
We partner with Camden schools and community centers to deliver informal club sessions centered on writing expressively. Teaching artists introduce students to age-appropriate and culturally resonant material, invite students to complete writing prompts or play storytelling games, and help students build a body of work they're proud of over the course of a few months or a year. We want students to celebrate their voices and communities as important sources of language and story.
To date, we have partnered with Camden Ignite at Cooper's Poynt and Dudley Family School.
We're always interested in the possibility of new partnerships! Contact us if you are an out-of-school-time leader interested in working together. 
Who We Are
Teaching artist bios for 2018-19 coming soon. 
Jae Lee is a M.F.A student in creative writing and a poet from South Korea. She has worked for Behind the Book, a NYC-based non-profit working to connect public school students with authors of children and YA books, a project that culminates in the creation of books of student writing reflecting their diverse backgrounds and experiences. She feels strongly about the importance of creative writing as a means of expression and source of wellness for young minds.
Phil is a first year Master of Fine Arts candidate from West Michigan. He has served as a middle school mentor for Step Up at Hope College, where he discovered a love for teaching and learning from younger students. Growing Great Writers represents a wonderful opportunity to reenter the Language Arts that raised him.