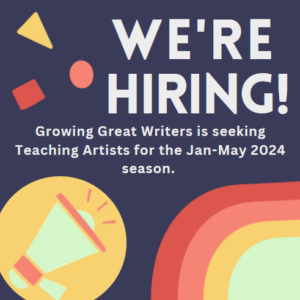 Call for Teaching Artists: Growing Great Writers After School Program
Growing Great Writers is hiring! Growing Great Writers, a program of the Rutgers-Camden Writers House, partners with Camden schools and community centers to provide an after-school creative writing club and curriculum to 6th through 8th graders. The program focuses on fostering joy, confidence, and agency in literacy through the acts of reading for pleasure and writing imaginatively. By reading short stories, poems, comics, plays, songs, and other works of creative writing together, and creating their own imaginative work inspired by published pieces, students support their growing literacy skills while experiencing joy and confidence around reading, writing, listening, speaking, and performing. In spring of 2024, we have the opportunity to partner with the after-school program at LEAP Academy University Charter School.
The role: We are seeking two part-time Teaching Artists for the 2024 spring semester to deliver once-weekly club programming at LEAP Academy. Each Teaching Artist will develop curriculum and lead sessions with a teaching partner, with the support of partner site staff. Teaching Artists are required to attend an orientation on January 18th, regular check-in meetings with the program director, and a mid-term retreat. Teaching Artists will be responsible for developing a curriculum outline, developing an end-of-year celebration of student work (usually a print anthology or performance), and delivering 12 sessions of club programming together with a co-teacher. Teaching Artists must be currently enrolled graduate students at Rutgers University-Camden.
Time commitment: once per week on Thursday afternoons for 1.5 hours (3:15-4:45), plus travel and prep time. Orientation will be held January 18, with weekly commitments (except for spring break) through May 2.
Qualifications:
Experience teaching art or writing at any level, in a classroom or in a more informal environment, strongly desired.
Strong background in contemporary literature, especially poetry, and interest in/experience in other arts.
Experience working with middle-school age youth preferred, especially in an urban environment.
Experience working in or with after-school, summer, or supplementary programs.
Flexible and adaptable, adept at meeting people where they are, interested in teaching methods that engage a wide range of learning abilities and interests, willing to learn from co-teachers, partner site administrators and staff, and students.
Possessed of a strong sense of humor, humility, and ability to self-reflect.
Experience developing culturally relevant/resonant, antiracist educational materials a plus.
Knowledge of Spanish a plus.
We are committed to building a diverse and inclusive community and strongly encourage candidates from underrepresented groups and/or who have experience working with a broadly diverse student population to apply. Candidates from Camden are strongly encouraged to apply.
Compensation: $950
To apply: Email a brief letter of interest, resume, and contact information for one reference (.pdf, .doc, or .docx only) to Sienna Zeilinger (sienna.zeilinger@rutgers.edu) by December 1, 2023.