Call for Growing Great Writers Teaching Artists
Growing Great Writers is hiring! Growing Great Writers, a program of the Rutgers-Camden Writers House, partners with Camden schools and community centers to offer a creative writing club program that introduces students in grades 4-8 to new genres, forms, techniques, and ways of appreciating and celebrating language through adaptive curricula that emphasize discovery and play. Past and current partners have included the Salvation Army Kroc Center, Catholic Schools Partnerships, The Neighborhood Center, and Camden IGNITE.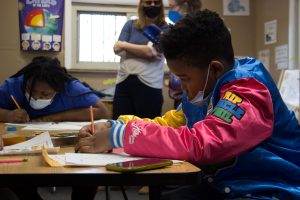 The role
We are seeking six part-time teaching artists for the 2022-23 academic year to deliver once-weekly club programming at partner sites. Each artist will develop curriculum and lead sessions with a teaching partner, with the support of partner site staff. The exact schedule is slightly partner-dependent, but will begin in late August with a two day training; residencies at after-school programs will begin in September or October. All teaching artists are required to attend regular check-in meetings with the program director and a mid-term retreat. Teaching artists will be responsible for developing a curriculum outline, an end-of-year celebration of student work (usually a print anthology or performance), and delivering 24 sessions of club programming together with a co-teacher. The program director will match teaching artists pairs and site partners after hiring is complete.
Qualifications
Experience teaching art or writing at any level, in a classroom or in a more informal environment, strongly desired.
Strong background in contemporary literature, especially poetry, and interest in/experience in other arts.
Experience working with elementary and/or middle-school age youth preferred, especially in an urban environment.
Experience working in or with after-school, summer, or supplementary programs.
Experience developing culturally relevant/resonant, antiracist educational materials a plus.
Flexible and adaptable, adept at meeting people where they are, interested in teaching methods that engage a wide range of learning abilities and interests, willing to learn from co-teachers, partner site administrators and staff, and students.
Possessed of a strong sense of humor, humility, and ability to self-reflect.
Reliable access to a vehicle is helpful but not required.
Compensation: $1900
To apply: Email a letter of interest, resume, and contact information for one reference (.pdf, .doc, or .docx only) to leah.falk@camden.rutgers.edu by July 15.