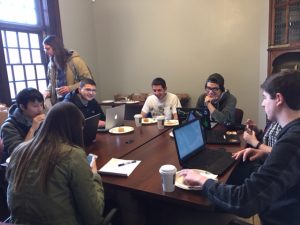 Do you love the Writers House and wish there were a way for you to get more involved? Well, there is! The Writers House is accepting nominations and applications for new Steering Committee Members this summer. 
As Steering Committee members are both the governing body and the primary ambassadors of the House, we are looking for a committee composition that reflects our diverse joint campus-community constituency, including students, staff, faculty, alumni and community members. Unlike a traditional board, committee members have no fiduciary obligation, but are expected to represent the Writers House in annual fundraising efforts. 
If you'd like to learn more, please view the board duties and application here. Apply by July 1, 2019.